2015 Soup & Pie Supper
2015 Heartland Corn Maze
46 Komstaders took to the maze this year. Here is some of the group.
2015 KOMSTADKIDS VBS - SonSpark Labs
2014 Christmas Cantata Practice
2014 Trip to Heartland Corn Maze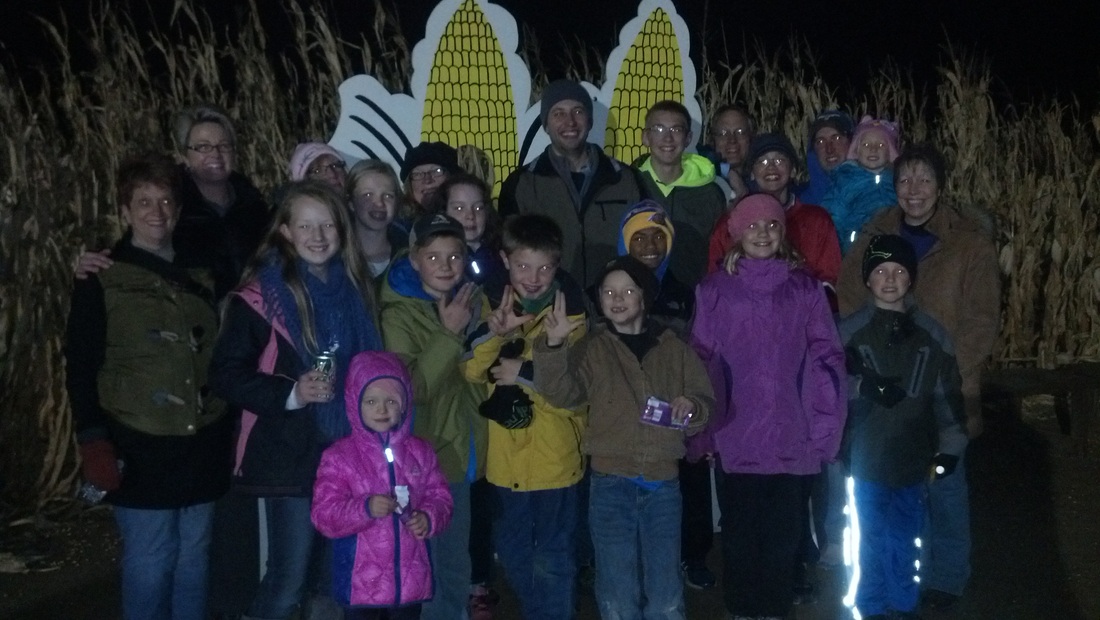 2014 Komstad SonTreasure Island VBS
2014 Progressive Supper & Youth Lock-In
Thank you to all the parents who hosted and served food during the progressive supper! We had a great time playing games during the sleepover with the 30 students in attendance.
2013 Basement Painting
2014 Soup and Pie Supper
VBS 2013 - SonWest Roundup
2013 Wheels & Squeals/Midsommar Concession Stands
2013 Youth Progressive Supper and Lock-In
Komstad Sledding Party 2012
The Strom family invited us to their land to enjoy sledding after Church. We had a great time trying out the different slopes!
Children's Inn Gift Wrapping Booth 2012
Volunteers from our church helped wrap gifts for people in order to raise money for Children's Inn.
Soup and Pie Supper 2012
Sunday School Kick Off Picnic 2012
As we kicked off the new year of Sunday school we celebrated with great fellowship, delicious food, and a bean bag tournament.
Midsommar Youth Food Stand
Every year Dalesburg Lutheran puts on its Midsommar Festival, which is a time of celebration of the Swedish heritage. There are musical programs and activities that run throughout the day. For the last four years, Komstad has provided a concession stand to raise money. All the proceeds of the concession stand goes to our youth group and specifically the Rosebud Mission Trip.
VBS 2012 - SonRise National Park
Komstad Church has been transformed into a national park for the summer. The children begin their activities in a lodge, hike down glacier mountain to the waterfall and campground for lessons, games, and crafts. After that they head to the picnic area for tasty treats. Come join us and watch the WILDlife at SonRise National Park.
Rosebud Garage Sale Fundraiser - 2012
Sandy Strom hosted a fundraiser by opening up her garage. There were all sorts of items to buy and lots of food including bars, salted nut rolls, hot dogs, taverns, chips, lemonade, and more. All the purchases were donated to the Rosebud Mission Team. The total amount raised was over $900.
Easter 2012

Pictures from our delicious Easter brunch and the Good Samaritan Centerville Easter Egg Hunt

Sunday School Kickoff Picnic 2011
Soup and Pie Supper 2011
Christmas Program 2011 - 'Christmas in the Country'
VBS 2011 - Son Surf Beach Bash

This year's Vacation Bible School theme was Son Surf Beach Bash. The whole basement was decorated with beach themed items and the kids had a great time while they devoted themselves to learning important truths about the good news of Jesus Christ.


Serving Breakfast for the Tour de Kota
This summer, Komstad adults and youth teamed up with members of Dalesburg Lutheran to give of their time to help fund raise for the church. We set up signs and served a huge breakfast buffet in the parking lot of Dalesburg Lutheran.